This project was an internship assignment. With a group of three, we had to find a non-profit organization that needed a new brand identity. We chose VOC Malderen, a rescue center for birds and wild animals. We thought their initiative was wonderful and really necessary. The people working there are constantly taking care of needy animals and this is not always easy. The VOC had recently purchased an extra piece of land to create extra space for recovery quarters. Since they have to get their money from donations, it is not always easy to raise enough so that they could help every animal. We wanted to help them raise more money with our redesign so that they could come a bit more even. We had a complete carte blanche, the only thing we couldn't change was the logo of the owl.
A clear and eye-catching branding would certainly help the VOC getting more attention from people, so that was our main concern. We also wanted to attract more young people because the more they could reach, the better they would be known and the more money they would raise.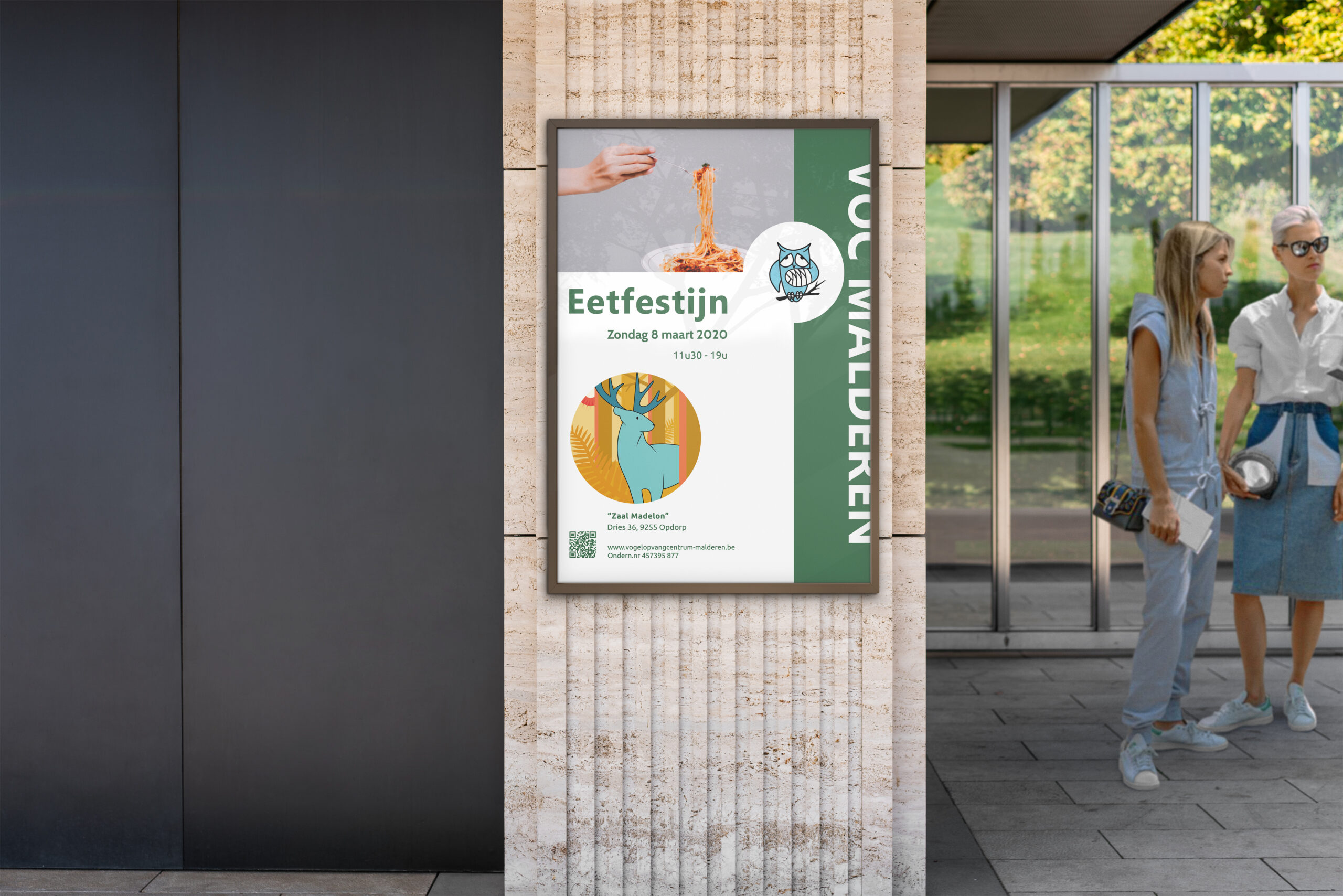 The result is a coherent style and branding. The main color is dark green, contrasting with their light blue logo. We also used a more creative way to use the typographic name of the VOC because most people know them by the logo itself and this created something that was a more interesting take. I made a collection of animals, fitting with the logo, to communicate what they were and to give everything that little bit something more. We also ended up reworking the logo in Illustrator, because the previous one had jagged lines and they would bleed in if you printed it on a small size. In the end, we made a redesign with these media expressions as a result: a house style (guide), a poster series, a program booklet, a folder, membership cards, a company card, lettering of a company car, signage, an entrance sign, a website, and a Facebook page redesign.
View the corporate identity book:
View the corporate identity book:
This is the cover of the program booklet, made with the same elements.
This is the home page of the redesigned website. You can take a look: https://www.vogelopvangcentrum-malderen.be