Graphic Design / Illustration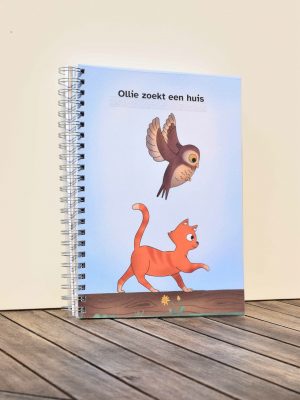 Graphic Design / Illustration
This work is my bachelor's design; a children's book made for the visually impaired/blind, with my cat Ollie in the spotlight.
My goal for this children's book was to create something that allows the visually impaired/blind to learn to read and from which both visually impaired and partially sighted people can be read. This also had to be attractive to children who do not have a visual impairment. As a result, this needed to become an inclusive book.
I succeeded in my goal and created a book that consists of reading text at the first-grade level, but also the combined text that is intended for a more advanced reader. I added braille to this text. I made illustrations that contained enough contrast for the visually impaired but did not disturb people without a visual impairment. For the blind, I made a simplified tactile version of the drawings. The story is about a cat named Ollie that searches for a home with his companion Owl. They do this throughout the seasons. The story is also made to get children to answer questions throughout the book and go into conversation with their advanced reader companion. This version was made with what I could make myself, since printing book a book with braille is very expensive. The end result is therefore different from what I had in mind.
You can visit the site where you can follow the process:
You can visit the site where you can follow the process:
Here you can see an open page at the beginning of the book, illustrating how it looks like and how it works.
Here is another example of a page in the book.