Graphic Design / Case Study / International Project
Graphic Design / Case Study / International Project
This was an International group project. We made this project together with Paul van Ravestein from Mattmo in Amsterdam. This was the brief: In this project, you unleash your research, communication, and design skills on a social issue: explore and recreate the impact on brands in relation to (cultural) stereotyping. Analyze the identity and history of brands who use a "mascotte" like Uncle Ben's or other stereotyping material and create a non-polarizing view on it. Rebrand a brand like this and create a PR campaign (retail, social media, tv-ads, …) to explain to the general public why the brand is rebranded and/or to apologize for the offensive nature towards certain audiences.
As a first opinion, I didn't really realize that Dr. Oetker's commercials were so stereotypical. As a white person, many things don't stand out. I didn't really mind that women were portrayed as the typical housewife who makes food every day and takes care of the husband and children. I did have a problem with the fact that this stereotype was used for so long in the commercials. The Italian image is indeed still correct, although their brand focuses a bit too much on this authentic image and it is no longer contemporary. The whole branding feels outdated. It was only after watching a number of advertising videos that I realized how loose Dr. Oetker's brand design is. They use so many different things together. Different logos are used on the boxes, on the commercials they use something different and then also a different version on videos in social media. Their types of pizza also have different branding and they always go back to stereotypes to make it sell. They need to adjust their branding and design to make it contemporary and fresh again.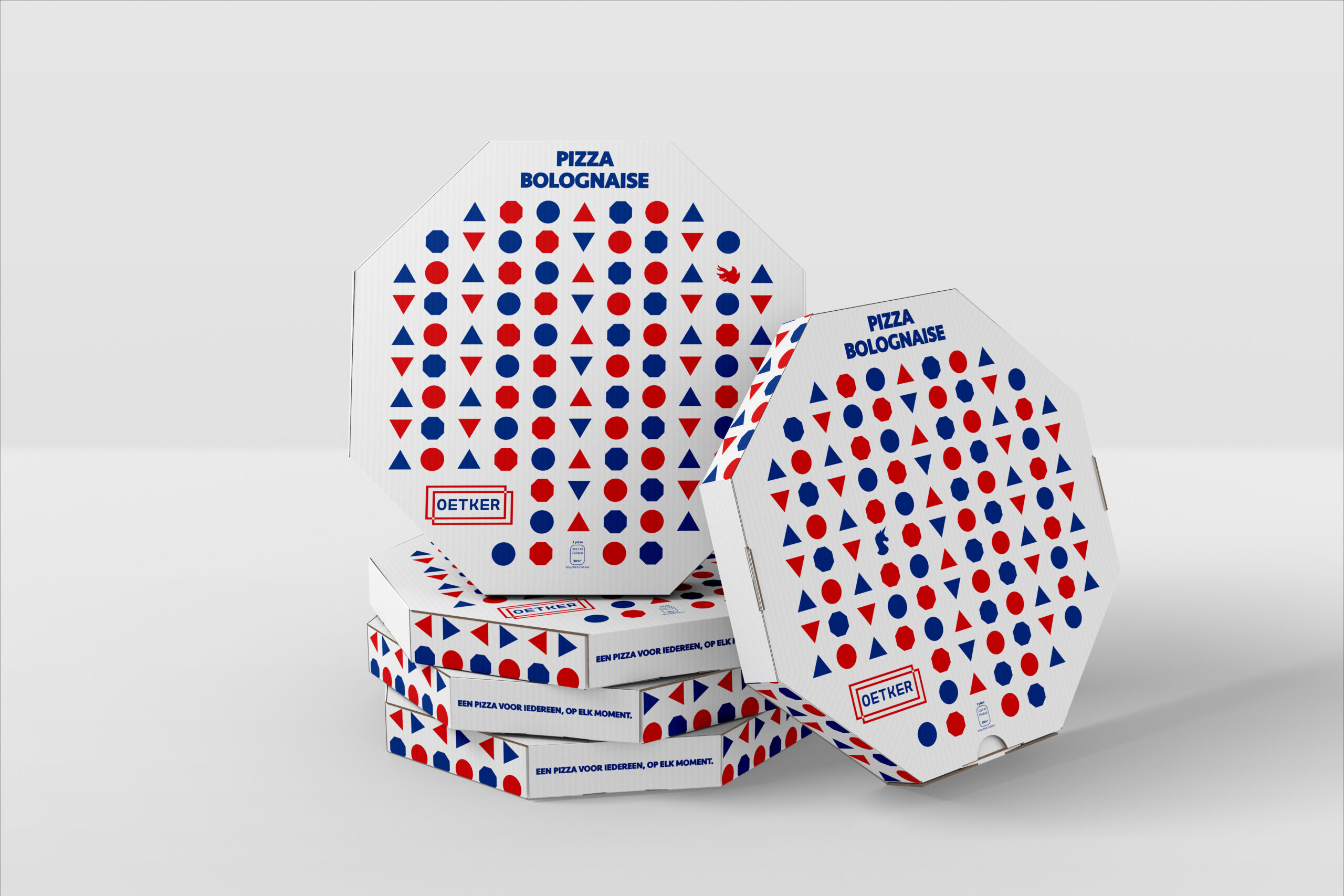 We've turned the boring traditional square box into an octagonal one. We wanted to make sure that it would immediately stand out when you walk into a supermarket. We still incorporated the blue and red colors that were typical of the previous packaging. We used three figures: The circle is the whole pizza; the triangle is a slice of pizza and the octagon represents our box itself. This way we created an interesting pattern. A few icons have been incorporated into this pattern, as a reference to our survey, which showed that 82% were unaware that a woman's head was depicted in the original logo. We wanted to respond creatively to this. You can scan the patron on the pizza box, and you will find an Instagram filter. This filter depends on which icon is on the box. You can take a picture of your Oetker moment and share this on social media. This way we want to involve more people in the branding. We want to create a connected feeling. The brand believes in diversity, we focus on a new essential: Food connects. The core values are family and friends.
We removed the name "doctor" in "Dr. Oetker" because it had to convey the idea of ​​a quality guarantee on his packaging and to convince people that Dr. Oetker sold healthy food. This is not the case, they are only unhealthy products/food. We also omitted the icon of the woman's head. This dates back to the 1900s when a contest was won by Theodor Kind, a lithographer, who used the silhouette of the head of his daughter Johanna Kind. This brand also used to have the slogan: "A clear head only uses Dr. Oetker." This however is no longer relevant. Also, according to the rules of design, something pointing to the left looks at the past, while something looking to the right looks at the future. As a brand, it can never hurt that you are open to opportunities and go along with the future.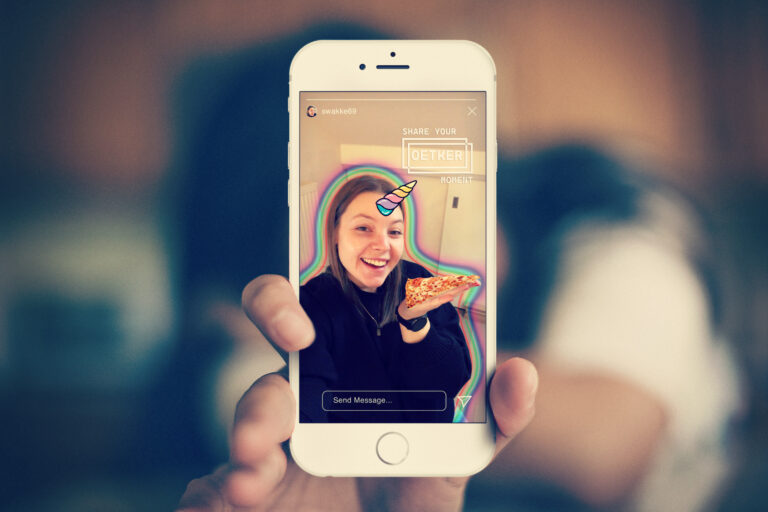 Because of the fact that this brand uses a lot of stereotypes in their campaign, we wanted to do something completely different that tied in with our new concept: "Food connects" and the core values "family and friends". We created an Instagram filter that changes with the different icons found on the box, in this case a unicorn, and you would use for shearing your Oetker moment on social media.